How to Make Delicious Rava Upma. If you're looking to tantalize your taste buds with a delectable Indian breakfast dish, look no further than Rava Upma. This traditional South Indian delight is a flavorful and nutritious dish that's perfect for starting your day on the right note. In this article, we'll guide you through the step-by-step process of preparing a mouthwatering Rava Upma that's sure to delight your senses.
How to Make Delicious Rava Upma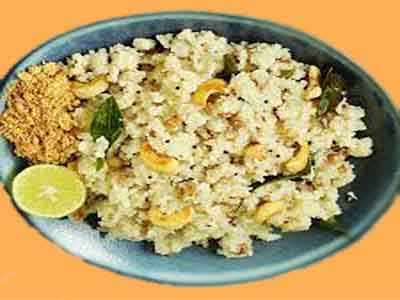 1. Gather Your Ingredients
To embark on your culinary journey, gather the following ingredients:
1 cup of Rava (semolina)
2 tablespoons of ghee or oil
1 teaspoon of mustard seeds
1 teaspoon of cumin seeds
A pinch of asafoetida (hing)
1-2 green chilies, finely chopped
1 medium-sized onion, finely chopped
1 small carrot, finely chopped
2-3 green beans, finely chopped
1/4 cup of green peas
8-10 curry leaves
A handful of cashew nuts
1 teaspoon of grated ginger
2 cups of water
Salt to taste
Fresh coriander leaves, chopped, for garnishing
Juice of half a lemon
2. Preparing the Base
Begin by dry roasting the Rava in a pan over low-medium heat until it turns golden and emits a nutty aroma. Set it aside to cool.
3. Sautéing the Aromatics
In a separate deep-bottomed pan, heat the ghee or oil. Add the mustard seeds and let them splutter, followed by the cumin seeds. Add a pinch of asafoetida and sauté the green chilies, onions, and curry leaves until the onions turn translucent.
4. Adding the Vegetables
Stir in the chopped carrots, beans, peas, and grated ginger. Sauté for a few minutes until the vegetables are slightly tender.
5. Cooking the Rava
Carefully pour in the water and bring it to a gentle boil. Gradually add the roasted Rava while stirring continuously to avoid lumps. Reduce the heat to low, cover the pan with a lid, and let it simmer for 5-7 minutes until the Rava is cooked and has absorbed the water.
6. Final Touches
In a small pan, roast the cashew nuts until they turn golden. Add them to the cooked Rava along with some salt. Give it a good mix.
7. Serve and Enjoy
Your aromatic and flavorful Rava Upma is ready to be served. Squeeze the fresh lemon juice over the Upma for an extra zing of flavor. Garnish with chopped coriander leaves for a burst of color and freshness.
How to Make Delicious Rava Upma Conclusion
In conclusion, mastering the art of crafting a scrumptious Rava Upma is a delightful endeavor that brings together a symphony of flavors and textures. This beloved Indian dish not only gratifies your taste buds but also provides a wholesome and nourishing meal to kick-start your day. Whether you enjoy it with a side of coconut chutney or a dollop of tangy pickle, Rava Upma is a versatile dish that holds a special place in Indian culinary heritage. So, roll up your sleeves, gather your ingredients, and let the magic of Rava Upma unfold in your kitchen.
Indulge in the heartiness of this traditional Indian breakfast, and experience the warmth and comfort it brings with every flavorful bite.