Pani Puri (Gol Gappa) Recipe. Are you craving a taste of authentic Indian street food that bursts with flavors and spices? In this article, we're going to take you on a culinary journey to discover the secrets of making the perfect Pani Puri, complete with step-by-step photos to guide you along the way.
Pani Puri (Gol Gappa) Recipe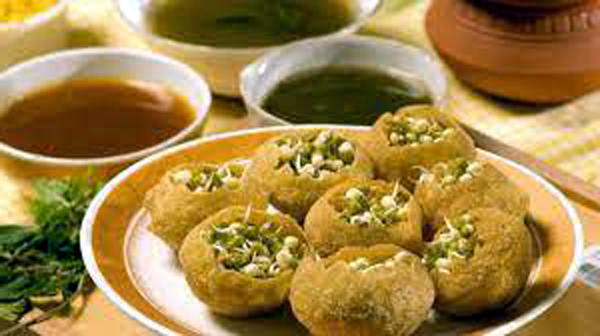 What is Pani Puri?

Pani Puri, also known as Golgappa or Puchka in different parts of India, is a famous and beloved street food snack. It consists of crispy, hollow balls made from semolina or wheat, filled with a tantalizing mixture of spicy tamarind water, tangy tamarind chutney, savory potato stuffing, and a blend of aromatic spices. This delightful snack is a burst of contrasting flavors and textures that will leave your taste buds tingling with delight.
Ingredients You'll Need
Before we dive into the step-by-step guide, let's gather the essential ingredients you'll need to make Pani Puri at home:
For the Puri Shells:
1 cup semolina (sooji)
A pinch of baking soda
Water for kneading
Oil for deep frying
For the Potato Filling:
2-3 boiled and mashed potatoes
1 teaspoon roasted cumin powder
1 teaspoon chaat masala
Salt to taste
Chopped coriander leaves
For the Tamarind Chutney:
1 cup tamarind pulp
1/2 cup jaggery or sugar
1 teaspoon roasted cumin powder
Red chili powder to taste
Salt to taste
For the Spicy Pani:
1/4 cup fresh mint leaves
1/4 cup fresh coriander leaves
2-3 green chilies
1-inch piece of ginger
1 teaspoon roasted cumin powder
Black salt to taste
Water
Step-by-Step Guide
Now, let's get down to the nitty-gritty of making these delectable Pani Puris:
Step 1: Prepare the Puri Shells
In a mixing bowl, combine the semolina, a pinch of baking soda, and a little salt.

Add water gradually and knead the mixture into a stiff dough.

Cover the dough with a cloth and rest for 20-30 min.
Heat oil in a deep pan for frying.
Take dough and roll them into small balls.
Roll out each ball into a thin puri using a rolling pin.
Fry the puris in oil until they puff up and turn light golden brown.
Drain and remove excess oil on a paper towel. Your puri shells are ready!
Step 2: Prepare the Potato Filling
In a bowl, mix the boiled and mashed potatoes with roasted cumin powder, chaat masala, salt, and chopped coriander leaves.
Your delicious potato filling is now ready.
Step 3: Make the Tamarind Chutney
In a saucepan, combine the tamarind pulp, jaggery (or sugar), roasted cumin powder, red chili powder, and salt.
Cook over low heat until the mixture thickens and forms a chutney-like consistency.
Allow it to cool, and your sweet and tangy tamarind chutney is ready.
Step 4: Prepare the Spicy Pani
Combine fresh mint leaves, fresh coriander leaves, green chilies, ginger, roasted cumin powder, and black salt in a blender.
Blend adding water as needed.
Dilute the paste with more water to achieve the desired level of spiciness.
Step 5: Assemble Your Pani Puri
Gently make a hole in the center of each puri shell.
Stuff the potato filling inside the puri.
Drizzle a spoonful of tamarind chutney over the stuffing.
Dip the stuffed puri into the spicy pani and enjoy the explosion of flavors!
Pani Puri (Gol Gappa) Recipe Conclusion
There you have it – a comprehensive guide to creating the perfect Pani Puri right in your own kitchen. This beloved Indian street food will not only satisfy your cravings but also impress your family and friends with your culinary skills. So, what are you waiting for? Get ready to savor the mouthwatering delight of homemade Pani Puri today!