Poha Recipe For Breakfast. Today we will share with you our recipe for Kanda Batata Poha, along with some tips and benefits of incorporating Poha into your diet. We are confident that our recipe is not only delicious but also nutritious, and it will leave you feeling satisfied and energized for the rest of the day.
Poha Recipe For Breakfast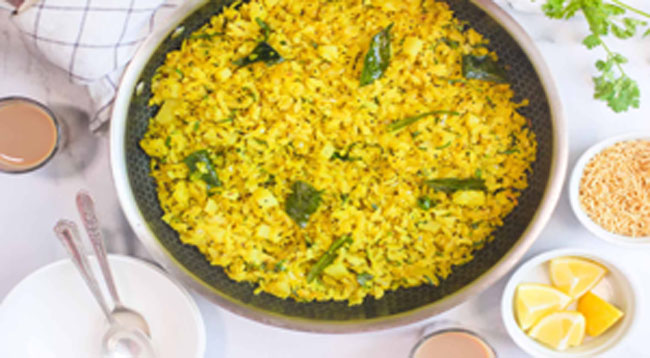 We have prepared an exquisite recipe for the classic Indian breakfast dish called Kanda Batata Poha. Poha is a popular and traditional Indian dish made with flattened rice flakes, which is a healthy and filling meal option. In this recipe, we have added a flavorful twist by incorporating onion, potato, and some spices, to give it a delectable taste.
Ingredients:
1 1/2 cups poha (flattened rice flakes)
1 onion, finely chopped
1 potato, peeled and diced into small pieces
1/2 teaspoon mustard seeds
1/2 teaspoon cumin seeds
1/2 teaspoon turmeric powder
1/4 teaspoon red chili powder
1/4 teaspoon asafoetida (hing)
5-6 curry leaves
Salt to taste
1 tablespoon oil
1 tablespoon roasted peanuts
1 tablespoon chopped coriander leaves
1 tablespoon lemon juice
Instructions:
Rinse the poha in a sieve under running water until it softens. Be careful not to over-soak it. Set it aside to drain.
Heat oil in a pan and add mustard seeds. Once they start to crackle, add cumin seeds, asafoetida, and curry leaves. Fry for a few seconds.
Add chopped onion and sauté till it turns translucent.
Now add diced potatoes and sprinkle some salt. Mix it well, cover and cook for 5 minutes.
Once the potatoes are cooked, add turmeric powder, red chili powder, and mix well.
Add the soaked poha to the pan and mix it gently with the other ingredients.
Cook for a few minutes on low heat, stirring occasionally.
Add roasted peanuts, chopped coriander leaves, and lemon juice. Mix well.
Turn off the heat and let it sit for 2-3 minutes before serving.
Your delicious Kanda Batata Poha is now ready to be served hot with a cup of tea or coffee.
Tips:
You can add some grated coconut or sev (crunchy Indian noodles) as a topping for extra flavor and texture.
You can also garnish it with some chopped green chilies for an extra spicy kick.
Make sure to use fresh curry leaves as they add a distinct flavor to the dish.
Benefits of Poha:
Poha is a nutritious and wholesome dish that is enjoyed by people of all ages. It is made from flattened rice, which is a good source of carbohydrates and dietary fiber. Poha is also rich in vitamins and minerals such as iron, vitamin B, and magnesium. It is a low-fat and low-calorie food, which makes it an ideal breakfast option for those who are trying to maintain a healthy weight.
Conclusion:
In conclusion, Kanda Batata Poha is a nutritious and delicious breakfast dish that is easy to prepare. It is a great way to start your day with a healthy meal that is packed with flavor and nutrients. By following our recipe and incorporating it into your breakfast routine, you can enjoy the health benefits of this traditional Indian dish. So, next time you are in the mood for a tasty and healthy breakfast, give Kanda Batata Poha a try! Not only will it leave you feeling satisfied, but it may also help improve your overall health and well-being. Don't forget to experiment with different toppings and spices to make it your own unique creation. Enjoy!